Visiting Officials of BD Army Medical Services
Honoured by Shapla Shaluk Lions Club




Press release: Sydney South Shapla Shaluk Lions Club organized a dinner meeting & reception party in honor of visiting high officials of Bangladesh Army Medical services on 17/4/19 Wednesday.
The event was held at Shapla Shaluk Lions Club member Dr Ayaz Chowdhury (Gastroenterologist) & Dr Jessie Chowdhury (Senior GP)'s house at Baulkham Hills.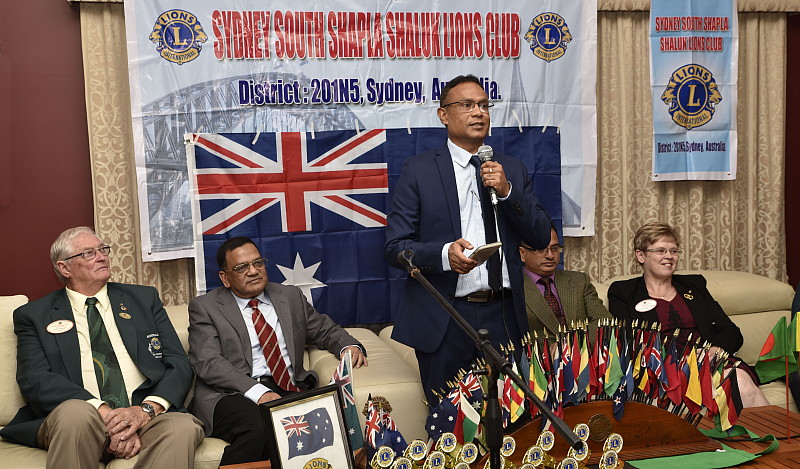 The guest army officers are Medical Doctors who were in Australia on a government mission to visit some renowned Australian Hospitals, Universities and research institutes. Their aim was to know about the different sectors of Australian health delivery system & implement them in Bangladesh including public health sector.

The visiting guests, in Bangladesh, hold different senior positions in Bangladeshi Army medical services as well as in selective public sectors. They actively take part in different crisis situations inside the country as well as internationally which include among others quick response to natural calamities. They serve & lead different public health sectors- many of them are & were directors / senior administrators of different public hospitals. They also have served & led different UN peace keeping missions in different parts of the world.

The visiting army team was led by Brigadier General Dr Sheikh Salahuddin - Commandant armed forces medical institute, Bangladesh. General Sheikh Salahuddin is a graduate from Sir Salimullah Medical College, Dhaka, Bangladesh. He is also a poem writer & song composer. He regularly writes in different renowned dailies in Bangladesh.

Other team members were:
Brigadier General Dr Shahidul Gani
Brig Gen Nasrin Ara Zaman (Spouse of Brig Gen Shahidul Gani)
Brigadier General Dr Mizanur Rahman
Brigadier General Dr Parvez Kabir
Brigadier General Dr Masood Ahsan
Brigadier General Dr Nizam Uddin
Colonel Dr Iftikharul Islam
Colonel Dr Nasirul Haque Khan
Colonel Dr Iqbal Bahar
Colonel Dr Nurul Amin
Lt Colonel Dr Masudur Rahman
Lt Colonel Dr Farhan Hossain
Lt Colonel Dr Mashiul Munir
Lt Colonel Dr Mohsin
Mrs Nasrin Akhter- Spouse of Brig Gen Mizanr Rahman

The meeting, among others, was also attended by local Lion leaders from Lion district 201N5, Sydney. Lion leaders present in the reception meeting were:
Lion Deric Margerison - Governor, Lion district 201N5
Lion Jennifer Touzel - Vince Governor, Lion district 2201N5
Lion Graham Utley
Lion Trevor Butten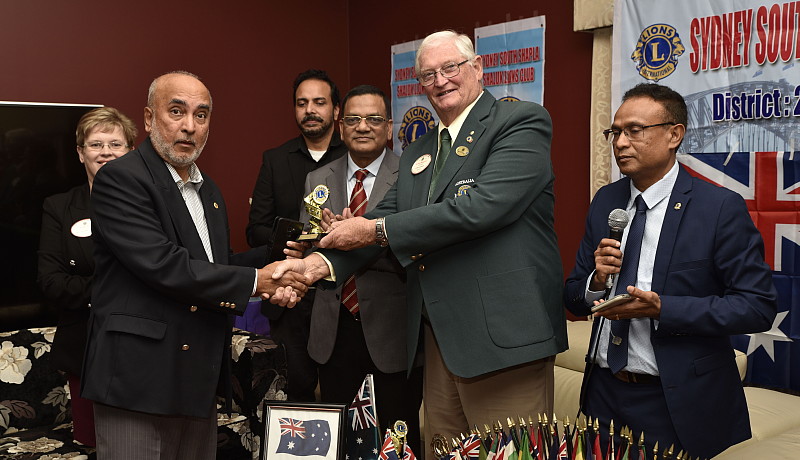 The meeting was also attended among others by renowned social worker & community elder in Sydney Mr Kazi Ali, senior Sydney Gastroenterologist & President of the Federation of Bangladeshi Medical Societies in Australia- Dr Ayaz Chowdhury (Gastroenterologist), Founder President of Bangladeshi Medical Society of New South Wales (BMS of NSW) Dr Shareef Dowla, Past President of BMS & senior GP Dr Jessie Chowdhury (senior Sydney GP), BMS Vice President Dr Rashid Ahmed (Senior GP), Secretary of BMS of NSW Dr Zakir Parvez (senior GP), BMS Education Secretary Dr Najmun Nahar (Head of the department, Radiation Oncology), BMS Cultural Secretary Dr Faizun Reza Emon (Surgical Clinical Super, Auburn Hospital), Dr Zahidul Alam (seniors GP), Dr Yousuf (senior GP), Dr Irshath Zahan (Geriatrician & member of Education sub-committee BMS), intensive care specialist Dr Sayek Khan (Ex cultural Secretary BMS), Dr Mir Jahan Maju (ex GS of of BMS) , Dr Shahnaz Parvin (senior GP, poet & singer) GP, Dr Rokeya Fakir Keya (senior GP), Mr Kaizar (Singer), Mr Arif Manik (social worker) & others.

The formal meeting was presided over by President of Shapla Shaluk Lions Club Lion Dr Moinul Islam. In his opening speech, he welcomed the local & visiting guests. He then introduced the local guests including Lion district leaders.

The program started with national anthem of both Australia & Bangladesh. Guests kept standing still in respect while the anthems were playing.
After the national anthem, guests were again requested to stand up & spend one minute in silence in honor of martyrs of international language day (Vasha Andolon in Bangladesh), martyrs of Bangladeshi liberation war & those who embraced martyrdom as a result of terrorist attacks different times at different parts of the world.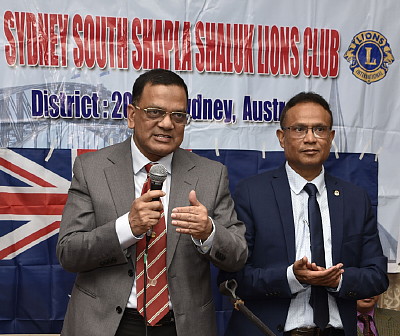 Brigadier General Dr Mizanur Rahman then introduced the visiting army team to the local elites & to the Lion district officials.

In his opening speech Lion President Dr Moinul welcomed all visiting guests, Lion district officials & the attending local elites. He introduced them to the visiting guests.

Lion Elius Chowdhury, secretary of Shapla Shaluk Lions Club then presented a short video on different charity activities undertaken by the club. These included- Repatriation of Smithfield mother late Tasnim Bahar who faced tragic death as a result of family dispute, repatriation of overseas undergraduate student late Kibria who faced a tragic death at Kogarah, Sending winter cloths to Bangladesh for donation among the needy people, arranging treatment/cardiac stenting for two heart patients in Bangladesh, financing for a breast cancer patient in Bangladesh, offering financial help to a overseas Bangladeshi student in Sydney, "give them a shelter project" where the club is currently building a house for a homeless 75 year old female in Bangladesh, yearly participation with NSW Police in brotherhood cricket games arranged for the new comer undergraduate overseas students, participation in different programs promoting charity etc.

It's worth mentioning that "Shapla Shaluk Lions Club" is the only Lions club in Australia that's formed & run by few likeminded enthusiastic Bangladeshi professionals. It was the inspiration of Lion Barry Palmer, former International President of Lions Club International (IPLCI) & Ex-Governor of Lion District 315B Bangladesh Lion leader Lion Nazmul Haque (PDG315B).

In his speech Lion DG Deric welcomed the visiting guests to Australia. He highlighted different charity works done globally by Lions International.

Among the guest speaker, Brigadier General Shaikh Salahuddin & Brigadier General Mizanur Rahman addressed the gathering.
In his speech General Salahuddin thanked the Lions Cub for arranging the reception party in their honour. He described the glorious contribution of Bangladesh Armed Forces Medical personnel towards the advancement of Bangladeshi health, their leadership role as a part of UN peace keeping force abroad & different rescue teams inside the country during natural calamities.
General Mizanur Rahman spoke about their successful Australia tour & how their new experience could help further improving the health system of Bangladesh.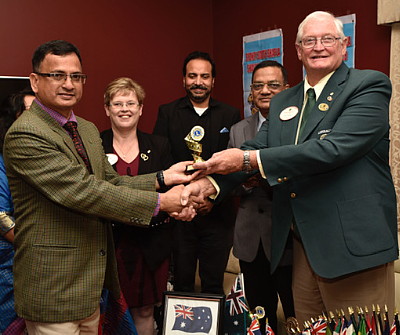 Lions club then presented special memento "Shapla Shaluk Lion Trophy" to all visiting guests.

Two Bangladeshi Australians were then awarded with "Shapla Shaluk Lion Award 2019" for their outstanding contribution towards the society / Bangladeshi community in Australia.
The Lion award holders are Mr Kazi Ali and Dr Ayaz Ayaz Chowdhury. District 201N5 Governor Lion Deric Margarison handed over the award. He was assisted by Lion President Lion Dr Moinul Islam.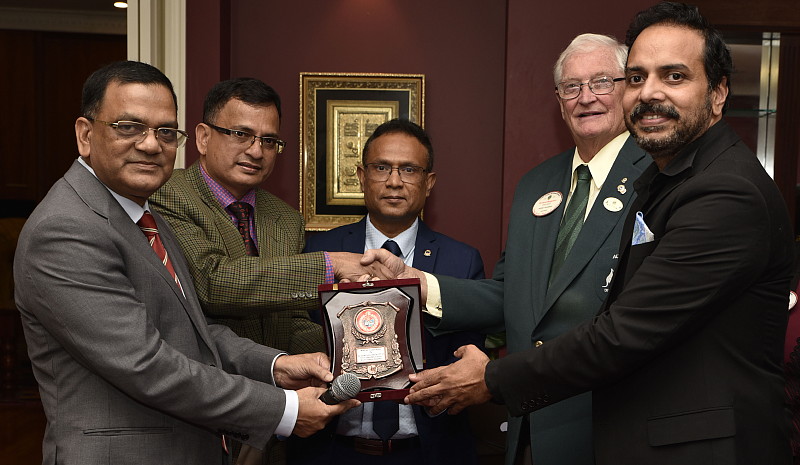 Before the program was formally concluded by Lions Club President, the visiting guests thanked the Lions Club by handing over a memento crest on behalf of Major General Fasiur Rahman (NDC, PSC) -Director General Medical Services, Bangladesh Arm Forces. The crest was handed over to Lion President Dr Moinul Islam by Brig General Shaikh Salahuddin- commandant, Armed Forces Medical Institute, Bangladesh.

The meeting was then formally concluded. Guests were then invited for a homemade 12 menu Bangladeshi dinner. The dish was specially prepared by host of the venue- formal President of Bangladesh Medical Society of NSW & senior Sydney GP Dr Jessie Chowdhury. It's worth mentioning that she is the better half of Dr Ayaz Chowdhury, the President of the 'Federation of Bangladeshi Medical Societies in Australia'. Lion leaders from the district 201N5, the visiting guests & other dignitaries then enjoyed the traditional Bangladeshi menu. They also utilized the time as an opportunity to mingle and greet each other.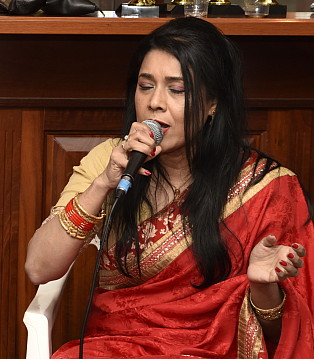 The dinner was then followed by a cultural program. Singers presented Bengali & Hindi songs that charmed the guests. Dr Shahnaz Parvin (senior GP) sang Ravindra Sangits, Dr Najmun Nahar (Radiation oncologist) sang old day's Bangla & Hindi songs & Mr Kaizar Ahmad Chowdhury sang 'Azam Khan' songs that charmed the audiences. Mr Vijay Jogia then sang popular Hindi songs & remix which attracted frequent claps from the audiences. Finally, a very touchy poem recited by General Sheikh Salahuddin led everyone go emotional. It was written by himself & the theme was his own his mother.
The overall program was coordinated by Dr Ayaz Chowdhury, Dr Jessie Chowdhury, Lion President Dr Moinul Islam, Lion Secretary Lion Elius, Lion Treasurer Lion Saiful Haque & Lion executive Member Lion Arif Rahman Manik.


Dr Moinul Islam, President
Lion Elius Chowdhury, Secretary
Shapla Shaluk Lions Club