Review on
'Leave Me Alone' by Alapon
Sakib Iftekhar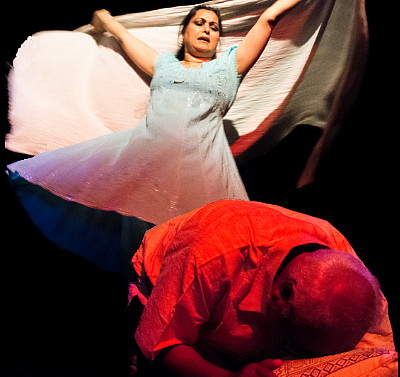 This could have easily gone past without much notice and need for writing on it - just like another 1 hour Bengali theatrical with 1971 Liberation War backdrop - except that it didn't. The reason surfacing up to me, besides a familiar catharsis, is the responsibility felt on at least 3 of my stubborn and stupid selves – nationalistic, humanly and of course the typical 'চেতনাবাদি সত্তা, all vowing together for it - this story needs to be told, seen and heard - if not more.

Through strands of father-daughter (post-liberation) monologues and dialogues mostly within household setting, the script touches on the unsettling narratives war brought on us- both individually and collectively. 3 million lives lost have 30 million stories & none can't sample-represent each other - it shouldn't. However, one of the few generalizations felt allowed here to me was 'how much we sacrificed' vs 'what we got'. With hundred glimpse to support both the sides in this production, (and not giving out much here) - one of the lines that hit me on the face is that of a mother (while fleeing from পাক বাহিনী and finally getting caught to save her family)…. "বঙ্গবন্ধুর সাথে দেখা হলে বোলো, আমার যাই আছে তাই দিয়ে গেলাম".

Tapping on to the latter, 'Leave me Alone's subplots tactically and creatively overlaps with real-time scenes to depict how 'Rajakars' and their follow through towards their darkly quest to dominate and disturb (post-war) the underlying principles and philosophies with their twistedly-fused, long-held interpretations of West Pakistani nationalism and religious inclinations. Humming of Australian National Anthem by daughter in a scene felt forced-into-context possibly to attempt a geographical connect (I missed out on line of thought here).

Light, sound (and live 'ধুপ' smell's surrealistic effect) coordination with each act synced flawless with the unparalleled acting performance takes us to that time and ambiance of the story that left nothing but 1-dimensionally emotional and empathetic. Daughter (played by Moushumi Martin) and Baba (Golam Mostofa) besides other 3 talented actors (Amit, Mir and Papri) will move and awaken you - hopefully to those overlooked but severely important senses we forget to tap on to - not even when they are co-existing with basic human fervidity.

As a member of a theatrical/cultural entity myself (Poth Productions), one of the 2 things I find myself extra-detailing on is aspects of set design/props, costumes connecting to overall aesthetics - & in this case, within limitations of a studio-theatre set up, this couldn't have been more uncluttered but effective enough to support the narrative. My other thing is about the other side- audience. Avoiding the frustrating tale of over-spoken 'decline of theatrical art' on this write up (specially within our community), I would love our target audiences to reserve some of their applause-kilojoules for these passion-fueled, self-less and truthful productions that undoubtedly deserves patronizing with tickets and attendance to the least.

There's a lot to take from this stage and it also does what a great theatre/drama should do I reckon- 'leaving us alone' to revisit where we stand- may it be our inner conflicts, values or even existential notions of pride and shame.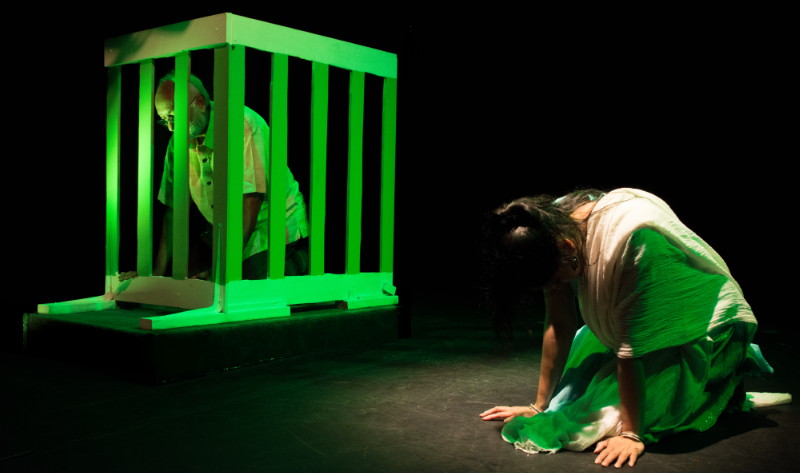 Notes:
Reviews are just words- what matters is being out there & experiencing it- real time.
Don't hold tight- go open and wide- listen, see, cry.
Let the stage (theatricals) light us up, or enlighten.






Sakib Iftekhar