Our Story (22)



The Brisbane Bangla School
Dr Rafiul Alam
The Background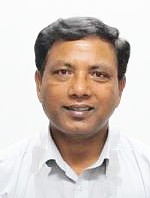 The Author



Brisbane Bangla School was established in 1997. As the General Secretary and Treasurer of the Bangladesh Association in Brisbane (BAB), I proposed to start a Bangla school in Brisbane at the very first meeting of the then BAB Executive Committee (EC; 1997-98). The objective was to minimise the potential cultural drift of our next generation that I observed in 1996 during rehearsals of a historical drama to celebrate the 25th Anniversary of Bangladesh Independence. BAB Member Secretary Dr. Tajul Islam, directed and organised the drama. Initially, there were several young children involved, however after a while, Tajul bhai picked up my six-year-old son (Samrat) for a few roles and gave up trying with other children. I observed that only Samrat understood the roles and enjoyed performing those. It wasn't the case with other children of similar age as they did not possess the similar connections to Bangladeshi culture or Bangla language in general. The need for a formal platform/school to introduce Bangla culture and language to our future generation was felt strongly by the community. Prior to this there used to be some informal arrangements whereby few parents would teach Bangla to their children from time to time in their social gatherings.


My proposal to introduce a Bangla school was enthusiastically received by the BAB executives, particularly the president Dr Mohammad Alauddin. The BAB EC (1997-98) requested Samiul Hassan to explore initial formalities and requirements to take the school forward in a formal way. It was through the joint effort of Samiul bhai, late Parikshit Basu, and the unqualified and enthusiastic support from the BAB EC, Bangla School was established in the second half of 1999. Soon after, Samiul bhai had to leave Brisbane for professional reasons and Delwar Hossain Khan (Delwar Bhai) took over the responsibilities of the school from Term 3, 1999.



Early years of the school

Delwar Bhai based on his experience in a Bangla language school in Singapore, introduced a constitution and curriculum for the school. Since then, Brisbane Bangla School (BBS) is functioning as a not-for-profit, non-political, and religion-neutral organisation, devoted primarily to the teaching of Bangla language and promoting Bangla culture. BBS teaches Bangla language and culture to the children of the Bangla speaking parents up to a level so that they can; communicate at ease with their Bangla speaking relatives and friends, be familiar with the mainstream Bangladeshi culture, and promote Bangla language and culture in a multicultural environment. The classes of the school are held during the school term weekends for two hours. In addition to the language teaching, relevant and necessary cultural awareness are also part of the curriculum.

After I returned to Brisbane from my interstate job in August 2001, I found Delwar Bhai with enthusiastic support from the community, and teaching support mostly from Shilpi Rahman and Parveen Khan, was running the school like any other state-run vibrant Sunday school. It was indeed very satisfying and fulfilling for me seeing the realisation of my vision. I enrolled my five-year-old daughter, and twelve-year-old son to the school and became an active school parent.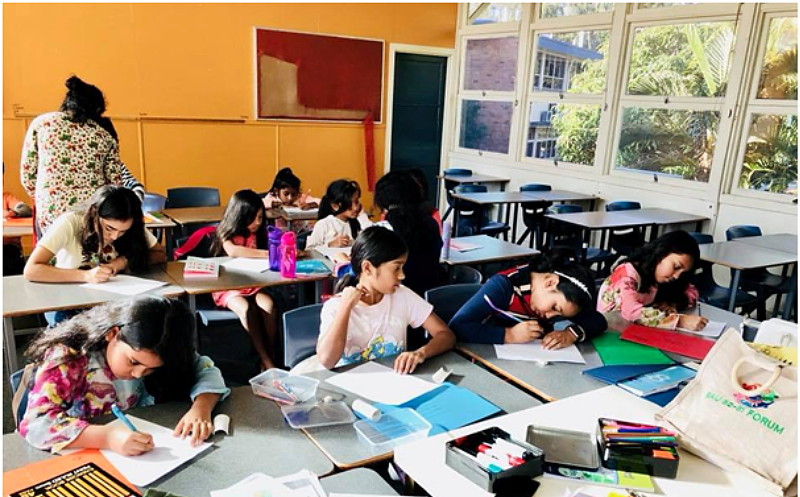 Brisbane Bangla School class



My involvement as an executive of the school

Within a few weeks of my return to Brisbane, the school Annual General Meeting (AGM) was held where Rabbur Reza Sumon (a school parent in those days and now the Chief Operating Officer, Beximco Pharma) requested me to become a school committee member. As I was not fully settled in with my new residence and job in Brisbane, I volunteered myself for the Treasurer position of the school for the term 2001-02. During my Treasurer tenure, I observed that the school was in very good shape, but BAB was not. So, after the school AGM in 2002, I committed to taking responsibilities of BAB. However, after serving BAB as Vice-Chairperson, General Secretary and President from 2003 to 2006, I realised that BAB's achievements were not that noticeable. By that time my Australian born daughter became a fan of Bangla School. She could sing Bangla songs, dance to Bangla music, and could speak, read and write in Bangla. She was also very keen to visit Bangladesh, possibly due to her Bangla language proficiency. Seeing my daughter's change and achievements due to the Bangla School, I committed myself to serve the school again.

I became the school Secretary for the term 2007-08. There wasn't any position of the President in the school committee. It was introduced in the school constitution at the AGM in 2008 and my name was proposed for the position. Thus, I became the school president from early 2009. Over the next few months Delwar bhai and Parveen bhabi had to discontinue the school activities for their health issues and Shilpi bhabi moved overseas with her family. Most of the senior students who started during the early years, left the school due to their university or high school commitments. Consequently in 2010, the student number was very low and the state government fund was stopped. So, the continuation of the school became difficult. Thankfully, the then BAB president, Sayeid Chowdhury and the immediate past BAB president, Mahiul Morshed supported me to increase student numbers. A good number of new and enthusiastic volunteers and parents joined the school; few long-term dedicated parents (Suraya Akter, Maksudur Rahman, Azizun Nessa and Maliha Newaz) continued their wholehearted supports for the school; and Nusrat Parveen and Kanij Fatema were happy to serve the school as volunteer teachers. Thus, the school was revived in 2011 and has continued as a vibrant community organisation since then. Sayeid Choudhury and Mahiul Morshed also took the presidentship of the school for one year each to give me a break. Finally, I handed over the school keys to Sayeid Choudhury when he became the school president in 2020.



Introduction of paid teacher option

BBS during its initial years had volunteer teachers; Shilpi Rahman and Parveen Khan. My wife Shahin Shimul was a backup volunteer teacher. Seeing their hard work and dedication, I thought that not many people would be interested in doing such an engaging job voluntarily. Teachers needed to be paid so that quality teachers could be employed in the future and in the absence of the volunteer teachers. Consequently, a paid teacher option was introduced in 2002. Since then, teachers are paid when there is enough fund or when a volunteer teacher is not available.



School administration

From 2007 to 2020, I bore much of the responsibilities of the school myself. I had to spend a lot of my personal time applying for school grants from the Department of Education, Queensland; reporting to the department each term; liaising regularly and negotiating a minimum number of student criteria for funding with the Ethnic Schools Association of Queensland; and participating with various government, community and multicultural organisations. I also had to update the school constitution a few times to run the school in line with the state government and Australian Federation of Ethnic School Association guidelines; to minimise conflicts within the school community by incorporating a clause about teacher communication standards with students and parents. I have also developed the selection criteria for teacher recruitment and registered the school with the Australian Tax Office for GST and Australian Charities and Not-for-profits Commission (ACNC). Thus, the school receives grants from the state government annually, and it has registered with relevant legal entities and has regulatory documents that covers all aspects of the school administration.



Fundraising activities

The state government grants and collected term fees from the students were not enough to organise other extra-curricular activities of the school. In order to raise funds for the school several live programs were organised with - Sujit Mostafa and Moon Moon Ahmed in 2005, Shafin Ahmed in 2014, and Selim and Rozie Siddique in 2018. Those events were the first-time opportunities for the school students to perform in front of large crowds and for the most community members also to meet those celebrities and enjoy their performances of songs, dances and role playing. Since then, the school hasn't had any fund crisis.



Cultural aspects of the school

It was observed that the school students enjoyed cultural programs a lot as they could link their language skills in singing Bangla songs or dancing with Bangla songs. So, BBS organises cultural events and participates regularly in the events that are organised by Bangladesh Association in Brisbane and Ethnic Schools Association of Queensland. BBS has been a popular organisation within our community for its quality cultural performance. Shilpi Rahman, as a teacher, had been the backbone of cultural teaching of the school for more than a decade. She organized many cultural events of the school, most of the events were theme-based drama or dance drama. When Shilpi bhabi left Brisbane it created a void. However, fortunately several years ago a student with strong cultural background, Nahid Shabnam Nijhum has joined the school as a casual teacher. Nijhum teaches the cultural aspects of the school, whenever necessary.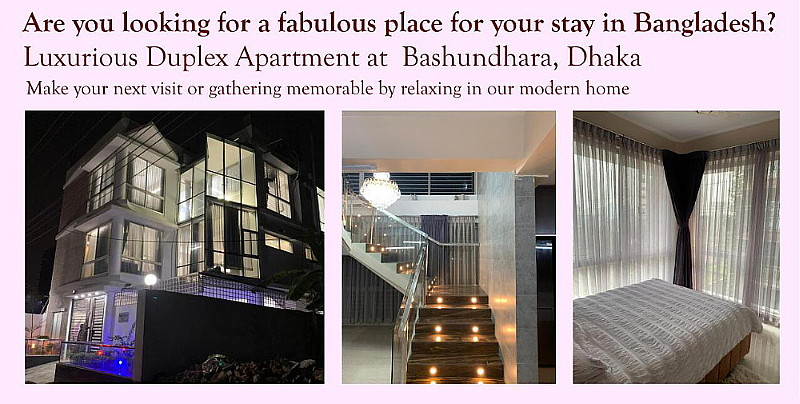 Click for details


Promoting Multiculturalism

We felt very strongly about establishing a Shahid Minar in Brisbane for a long time to promote the importance of preservation of mother languages in a multicultural society and to pay homage to the language martyrs. However, considering the community size I thought it would not be easy for us to successfully pursue such a project. Securing the supports of the multicultural communities and state government ministers and politicians seemed to be an effective way to move ahead. On behalf of the Brisbane Bangla School and Ethnic Schools Association of Queensland, I successfully secured grants from the state government to organise four multicultural festivals to celebrate IMLD in 2016, 2019, 2020 and 2021.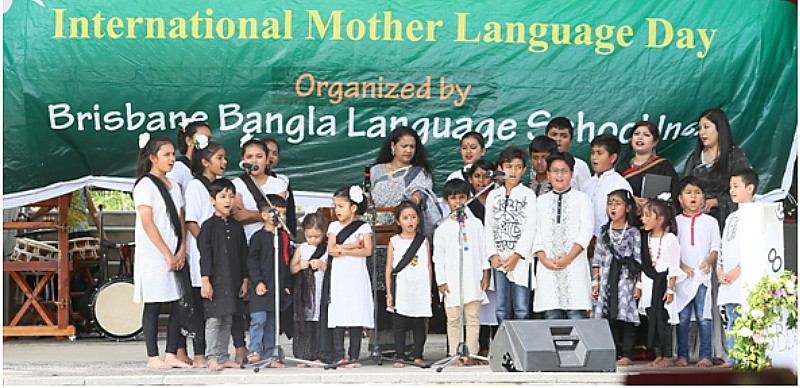 Brisbane Bangla School students & teachers singing Amar bhaiyer Rokte Rangano
Ekushe February celebrating International Mother Language Day 2020.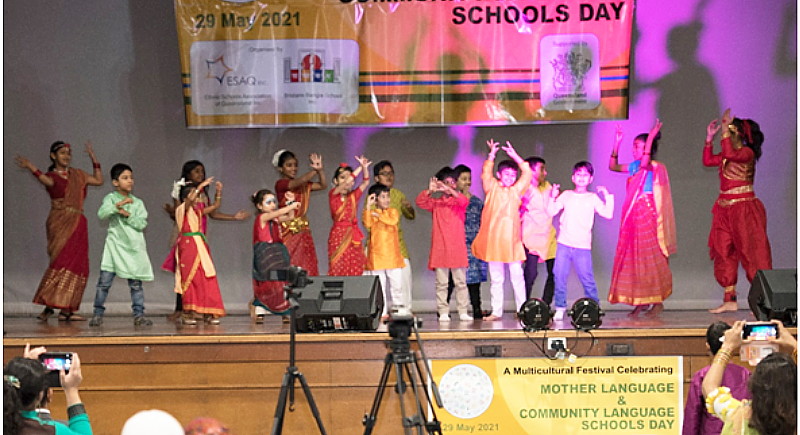 Bangla school students celebrating the International Mother Language Day 2021



Establishment of a Shahid Minar

We applied for a Mother Language Monument project to the state government in January 2020. The name of the project had to be Mother Language Monument (instead of Shahid Minar) to make it widely acceptable to all communities and authorities. The project was approved by both the state and local governments. In this process, Stirling Hinchliffe MP (former Minister for Multicultural Affairs, Queensland), Irene Bayldon (President, Ethnic School Association of Queensland), Nirmal Paul (Mother Language Conservation Movement), Mohammad Alauddin, Ahmad Rahman Santu, Maksudur Rahman, Sayeid Chouwdhury, Mahiul Morshed and my family members supported me to their best. The main structure of the monument is very similar to that of Sydney's Ashfield Park. However, the design includes the first letters of all spoken languages of Queensland as potrayed below. The Shahid Minar will be constructed at Robelle Domain Park, Springfield Central, Queensland 4300 which is centrally located in South-East Queensland and is well connected to the major regional cities by highways and railways.



Brisbane Bangla School students & teachers singing Amar bhaiyer Rokte Rangano
Ekushe February celebrating International Mother Language Day 2020.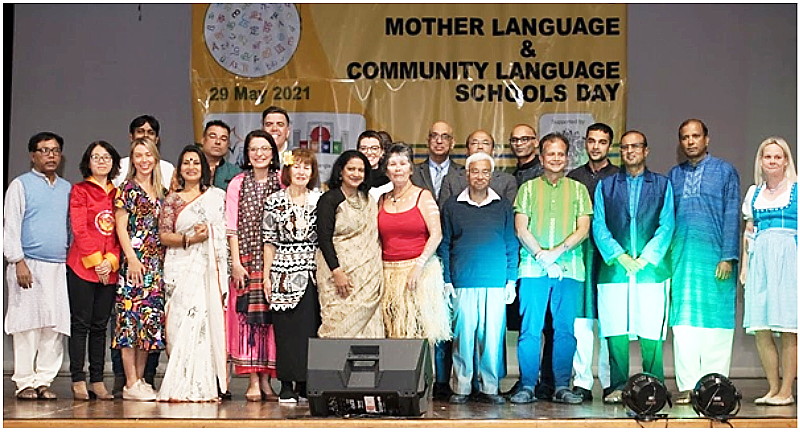 Dr Rafiul Alam (extreme left) announced the approval of a Shahid Minar in Brisbane with the representatives of Australia, Bangladesh and Queensland governments; Aboriginal and multicultural community leaders; ethnic language school leaders and Bangladeshi community members at the celebration of Mother Language and Community Language Schools Day 2021.
The design of the Shahid Minar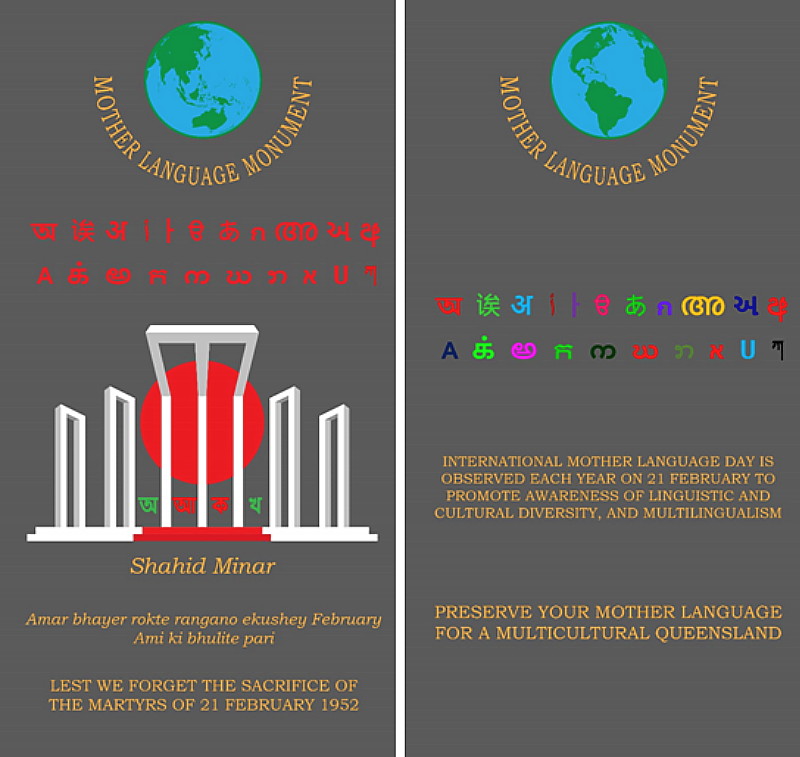 Front and rear design view of the International Mother Language Monument
(Shahid Minar).


A circular area to be prepared first for the Shahid Minar with light coloured concrete base. The base slab will be 1952mm x 1952mm x 150mm on which the Shahid Minar would stand. The height of the main stone is 1952mm which will be at the centre of the base slab indicating the IMLD concept holding on to the foundation basis of 1952. The slate width will be 900mm and breadth will be 150mm to have a strong structure with greater aesthetic value. The stone slate has been selected to symbolise the first writing media of language learning, guiding human beings towards life-term development in literature and education.

To reflect 21 February, the first letters of 21 languages have been selected for inscription on the slate. The 21 letters have been selected considering their uniqueness and coverage for all spoken languages of Queensland. On the frontside of the slate, the 21 letters will be in red colour to reflect the sacrifices of language martyrs around the world and on the backside of the slate, the 21 letters will be in various colours to reflect multiculturism.

"Amar Bhaiyer Rokte Rangano Ekushe February Ami Ki Bhulite Pari" will be in scripted in English rather than Bangla so that our next generations and wider community can read this and/or enquire about the meaning and significance of this line.



Looking back

I did my utmost to facilitate the Bangla language and culture learning for our next generation in a western multicultural society. However, the school responsibility for the last 12 years was a bit too engaging for me, particularly during 2007 - 2013. I had two young children and one of whom were very busy playing sports throughout the years at various levels. Regardless of my family or professional commitments, I had to be at the Bangla school before classes commenced. Our Saturdays were fully committed to it and thereby had to sacrifice many personal and social engagements. Our usual Saturday routines started with early breakfasts, and following up on the checklist to ensure that the school keys, tea/coffee, cutleries, snacks, stationery, books, the class lessons etc are ready. My wife Shahin Shimul as a teacher (volunteer or paid) also treated the school like one of our children for around twelve years.


Like every other aspect of life, it wasn't always a smooth run for me in regards to the running of school. Some members of the community anonymously attempted to defame/slander me in the social media in 2014. The objective being an attempt to seize the control of the school. I remember with extreme gratitude for the support and assistance that I received from Shanchita Khan, Farzana Darain, Farjana Apa and Tariqul Islam during that difficult period. It kept me from giving up and continue with our objectives. However, this did impact on our personal lives to a certain extent.

Brisbane Bangla School has now got a solid foundation with the paid teacher option, a robust constitution, registered with ATO and ACNC, and strong community support. Hopefully, it will continue to be a vibrant community organisation for many more years to come. I am certain and confident that the Shahid Minar will be built in the coming days symbolising the importance of learning mother language and become a symbol of multicultural Queensland.



Dr Rafiul Alam, Brisbane, Australia