Our Story (16)



Reminiscences of a Bangladeshi Migrant: Sydney in the early nineties
Dr. Mohammed Abdur Razzaque
The Background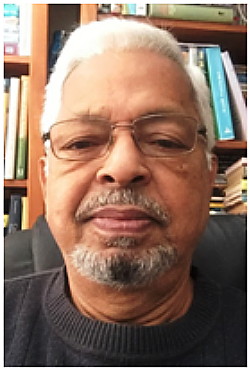 The Author

I feel honoured to be asked to contribute to the collection of stories of the early Bangladeshi migrants in Australia. I am not one of those courageous pioneers who dared to set foot in this relatively unfamiliar destination as early as the late 1960s and the early 1970s. I landed in Australia as a new immigrant much later, on December 16, 1988. However, my life as an immigrant began in Sydney on Sunday, June 24, 1990, when I landed at Sydney International Airport. I came here as a student to pursue a PhD program at the University of New South Wales. Our old friend from Singapore, Dr. Fazlur Rahman, then a senior lecturer of Electrical Engineering at UNSW, received us at the airport and drove us to his apartment at Rainbow Street, Kingsford.


Getting to know the crowd

That afternoon we accompanied Dr. Rahman to Randwick Community Centre on Bundock Street to attend a Bangladeshi social gathering. In those days, many of the immigrants from Bangladesh used to live in the Eastern suburbs of Sydney, namely, Mascot, Eastlakes, Hillsdale, Roseberry, Kensington, and Kingsford. One reason for this could have been the proximity of these suburbs to the Sydney CBD where finding a job for new migrants was relatively easy. This community Hall was a popular venue for the Bangladeshis living in Sydney. Here, for the first time, I met early settlers such as late Dr. Mukhlesur Rahman, late Mr. Shahidur Rahman, Barrister Salahuddin Ahmed, Messrs. Fakhruddin Chowdhury, Golam Hossain, Abdul Kadir Gama, Abdul Hannan, Faruk Khan, and Anwar Chowdhury, as well as newer immigrants such as Dr. Mahiuddin Choudhury, Messrs. Mamoonur Rashid, Muniruzzaman, and Muhummad Azeem. Also present there were Dr. Quaddus and Abu Sadeque, my friends from Singapore, a few younger people, and Mrs. Nasim Hossain, a Ph.D. student from Bangladesh.

Dr. Fazlur Rahman introduced me to the audience as someone having interests and expertise in two seemingly conflicting domains, namely culture, and religion! He was right about my areas of interest; he helped me organise cultural activities in Singapore, but his accolade about my expertise was an exaggeration. My interest in religion is inherited; I was born in one of the 'Khadim' (caretaker) families of the Kadam Rasul Dargah (holy shrine) on the river Shitalakhya, near Narayanganj. However, my interest in literature, cultural activities, and performing arts has been my choice. I carefully nurtured my love for these more pleasing pursuits throughout my student life and remained passionate about them even after entering (as well as leaving) my working life. Such an unusual combination of 'interests' drew immediate audience attention. Mr. Gama, the sitting President of the Bangladesh Association of Australia was the first person to approach me seeking my cooperation in organising cultural functions for the Association. We discovered that we knew each other during our discussion in the early sixties when I was studying engineering, and he was a student leader in Narayanganj. I instantly became Gama's 'Boro Bhai' (big brother)!

My interaction with people in that gathering provided me with rich information about the community leaders, their roles, public images, and contributions. I learned that barrister Salahuddin Ahmed was the de facto religious leader of the Bangladeshi Muslim immigrants, while Dr Mukhlesur Rahman and his extended family comprising his wife Shamim Rahman, daughter Shuvra Rahman, sister-in-law Shamsia Solaiman Mona and her husband Shafique Ahmed Babul were overseeing the cultural aspects of the community. Mr Mizanur Rahman Tarun (modern song), Mrs Atia Nasrin Gani (Tagore song), Shafique Babul (songs/jokes), and Mr Shahjahan Boitalik (Tabla & Mandira) were the regular participants in the cultural functions. The community appeared friendly, cohesive, and vibrant. I looked forward to becoming a part of this gradually expanding community and contributing to its development.


Settling down

Within two days, we rented a spacious, three-bedroom apartment next to Dr. Rahman's place. Furnishing did not take much time. Within a week, we got settled in our new home. Our son Sherief was admitted to Randwick Boys School, almost next to our apartment. Our daughter Sonia was already pursuing her undergraduate program at UNSW. My wife Nasim also started a certificate course in Childcare at a private institution in Strathfield. The only thing that I could not sort out was buying a car as I did not have an NSW driving license; I needed to pass a driving test. But with almost 14-years of experience as a licensed driver in many countries, I failed my first driving test in Sydney because I took too long to make the '3 point turn'! I passed the second test fifteen days later after driving for just five minutes; the very serious-looking lady conducting the test wondered how a cautious driver such as I could fail the first test!

The Academic Program

On July 1, 1990, I started my doctoral program. At the age of 44, I was too old to pursue a demanding academic program such as a PhD. While I had two advantages, I also had two disadvantages. The advantages included my maturity and experience as a university don in different countries and financial solvency that saved me the trouble of working to earn during my student days. Despite occasional disagreement with the supervisor, a normal thing for any doctoral student, my studies progressed smoothly. The disadvantages were adjustment with other younger cohorts and fear of losing face. Developing rapport with the younger Bangladeshi PhD students was not difficult. Within a short time, Mohammed Ali, Waliul Islam, Daud Khaled, Nasima Hussain, and Anisul Afsar pursuing a PhD in different disciplines at UNSW, and Yunus Ali working for his PhD at the University of Wollongong became good friends of mine. But I was more concerned about interaction with my Aussie cohorts. Before I left for Australia, a Chinese colleague who studied in Australia warned me that Australians are racists. Naturally, I was cautious when interacting with my fellow Aussie classmates. Initially, some of them did have some reservations about me and my capabilities and tended to undermine me. However, my consistent above-average performance in the program shut them up. Some of them had occasional silly puns, but that was not racism.


The Social Circle

While getting accustomed to Sydney life, I started socialising with other Bangladeshis living here and participating in community activities. Since my status was that of a student, I was unsure if the Bangladeshi professionals of my age group would accept me as one of them. But my apprehension was unfounded; they cordially accepted my family as a part of the community.

With time, I found that many immigrants who had good jobs or high positions in Bangladesh had difficulties finding comparable jobs here. Circumstances often forced them to accept 'odd jobs' they would have never thought of considering back home. Many of them suffered from inferiority complex and maintained a low profile. I also realised that several Bangladeshis living in Australia at that time did not come here with a proper immigrant visa. They came here on tourist or other visas and decided to stay back, seeking political asylum/refugee status. Sadly, a small section of the legal migrants who viewed themselves as 'elites' snubbed these people as 'illegals'. I came face-to-face with a bitter, painful truth - albeit its small size, the migrant Bangladeshi community had an underlying class system! There seemed to be two categories of legal migrants: a handful of self-styled elites and a great majority of commoners. And then, there were several illegal immigrants viewed as pariahs by the elite! The perception of elitism was rooted in the claimants' self-proclaimed family pedigree, present job status, occupation, and links to politicians and powerful civil servants back home. I do not want to name names, but I specifically remember a phone call from one such elite. He introduced himself as a classmate of one of my uncles and a close friend of several top officials in the Bangladesh government. He was shocked (!) to see me socialise with people who came from families of 'Jola' (তাঁতী-weaver), 'Jaulla' (জেলে-fishermen), and 'Choar' (চোর-thief) or were 'illegal' immigrants! He was kind enough to invite me to his home to introduce me to other 'elites' of Sydney when I visited him. Since I come from a humble background, I preferred to stay with other commoners and decided never to be near this person (or the other elites of his kind). I knew a few of the 'illegal' Bangladeshis who had good academic backgrounds and skills and were fantastic human beings.


Cultural Activities

In September 1990, Bangladesh Association called a meeting to discuss the format of its coming cultural show. Such shows, in those days, included recitations, different types of songs, and dances performed by a group of regular artists. I proposed to present a dramatic rendering of Rabindranath Tagore's famous Bengali poem 'Juta Abishkar' (Inventing the Shoes) by our children in the variety show. It reflected my conviction that our children growing up in Australia must be familiar with the various forms of our rich culture. Since most of them did not speak Bengali that well, some guardians doubted the idea's merit but accepted it for its novelty. That was the first cultural presentation in...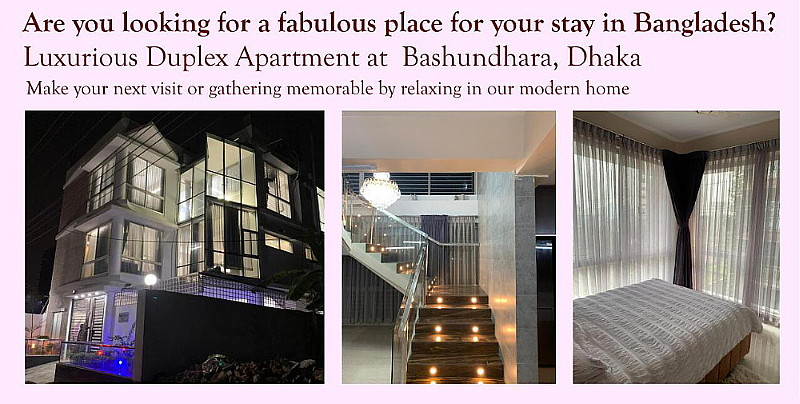 Click for details


...Sydney that I proposed to direct, and I needed a solid team to help me. Gama introduced me to Shaheen Shahnewaz, a reciter and actor, and Ashish Bhattacharya (Ashish Bablu), a writer, actor, and artist. This talented duo was involved in editing 'Shanko' (Bridge), the first entirely hand-written Bangla magazine published in Sydney. Both had extensive knowledge of props, stage decoration, lighting, sound, etc. With the help of Dr Fazlur Rahman, the support of Gama and a few other members, and most importantly, the enthusiasm of the kids, 'Juta Abishkar' was a grand success. That was, indeed, a milestone in the evolution of Bangladeshi culture in Sydney.

In this context, I must mention that I also got involved with the Bangla School established by the Association. Since I had Bangla font, I developed a book in Bangla for the young children of Bangladeshi migrants. Classes were held at East Lakes Public School on Sundays.

In those days, SBS Radio used to broadcast a weekly 1-hour program in Bangla anchored by Mr Fakhruddin Chowdhury and Mrs Mahua Haq, wife of Mr Gazi Ruhul Haq Uzzal. In late October 1990, Mrs Haq sought my help in developing a short radio script on Bangladesh and directing it. While I was happy to oblige her, Shaheen Shahnewaz (recitation), Gazi Sakhawat (flute), Shahjahan Boitalik (Mandira & Tabla), and Mr Tarun (vocal) took part in it. All and sundry acclaimed the program.

The success of the two cultural initiatives of different kinds encouraged me to do something bigger and more appealing. As the year 1991 was approaching, the opportunity came a-knocking. Bangladesh Association decided to celebrate the 20th anniversary of Bangladesh's independence from Pakistan. I proposed a stage show portraying the evolution of Bangladesh as an independent nation. The show would start with the defeat of Nawab Sirajuddoulah in Plassey and end with the victory of the Bangladeshi people against the Pakistani Army in the liberation war. The setting was something like this: a rural poet in a village 'Haat' (হাট - weekly village market) tells the story of the birth of Bangladesh in chronologically ordered episodes by reading a 'Punthi' (পুঁথি)। Each episode is presented on the stage using a combination of silent acting and movement by different actors, light and shadow play, and music. It was an ambitious plan requiring a lot of involvement, expertise, and effort. Strangely, some prominent members opposed the idea as the show was likely to glorify Sheikh Mujibur Rahman and Mrs Indira Gandhi. The objection made it clear that there was a subtle political divide among the community members reflecting the political realities of Bangladesh in the early '90s. All my life, I distanced myself from national politics and political leaders. As an academic and researcher, I always believed in upholding the truth even if it is not to my liking. So, I decided to ignore the objection and go ahead with the plan. Late Mr Uzzal, a close associate of Bangabandhu Sheikh Mujibur Rahman, requested me to reconsider my decision to maintain cohesion among the community members. But it was my conviction that young Australians of Bangladeshi descent must know the true history of the homeland of their ancestors. We staged the show in front of a packed audience at the East Lakes Primary School Auditorium with the help of dedicated people such as Gama, Dr Fazlur Rahman, Ashish Bablu, Shaheen, Shahadat Hossain, Waliur Rahman Tunu, and several university students. While the show was a great success, it also helped the Association identify many new culture enthusiasts eager to participate in cultural activities.

On April 29, 1991, a powerful cyclone struck the Chittagong coast of Bangladesh, killing 138,000 people and making thousands of people homeless. Bangladesh Association of Australia decided to raise funds for the affected families quickly. I prepared a dramatic rendition of Tagore's famous poem 'Pujarini' (Worshipper), and with the help of Dr Fazlur Rahman, Shaheen and Ashish, staged at the Round Hall of the University of New South Wales. Sabrina Rashid Lopa played the lead role supported by Farhana Rahman Jessie, Mrs Kaniz Rashid, Junaid, and Sherief Razzaque. Mr Christopher Leggett, a Senior Lecturer at the UNSW School of Industrial Relations, was the MC at this function. Mrs Mukta Rahman helped with the dances while Sonia Razzaque, Manjur Hossain, Babu, and Rizwana Rashid Dola prepared the props and gorgeously designed the set. Bangladesh Association of Australia sent the proceeds from the show to the Bangladesh Red Cross Society through the Bangladesh High Commission in Australia.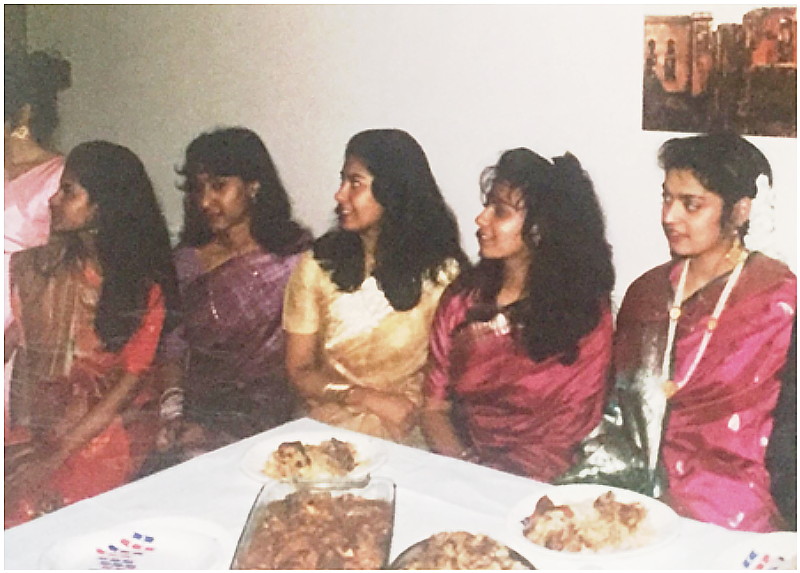 Some of girls who participated in or helped with Pujarini


During my occasional meetings with Mr Uzzal, he shared his dream of organising a regular annual event reflecting a mosaic of Bengali life, promoting different aspects of Bangladeshi art, culture, and tradition. This dream led him to organise the first-ever 'Boishakhi Mela' in Australia in 1992 to celebrate the Bengali New Year. The 'Mela' was held at the premises of Burwood Girls High School under the banner of Bangabandhu Parishad. I did not belong to the Parishad, yet I joined Mr Uzzal and his team comprising Gama, Tunu, Taslim Mahmud, and a few others in organising the event. There were six or seven stalls in the Mela; the 'Pitha Stall' was put by Mmes Nasim Razzaque, Mukta Rahman, Kaniz Rashid, and Mrs Golam Hossain. The success of this first-ever 'Boishakhi Mela' led to the organisation of a second Boishakhi Mela in 1993, corresponding to Bengali New Year 1400 in a much bigger way. I remember editing a Bangla magazine distributed in that Mela as a souvenir.

In the later part of 1992, I took the initiative to stage a full-fledged Bengali drama in which our children growing up in Australia will play most of the roles. I developed a five act-play based on a story from 'Louhokopat' by famous Bengali writer Jarasandha (Charu Chandra Chakraborty). Except for Waliur Rahman Tunu (Jailor) and Shaheen Shahnewaz (Dacoit), all the other performers were second-generation Bangladeshis in Australia. Babu, Mr Golam Hossain's second son, and Dola, Mr Mamoonur Rashid's eldest daughter, played the lead male and female role, supported by Sonia, Ruma, Rita and others.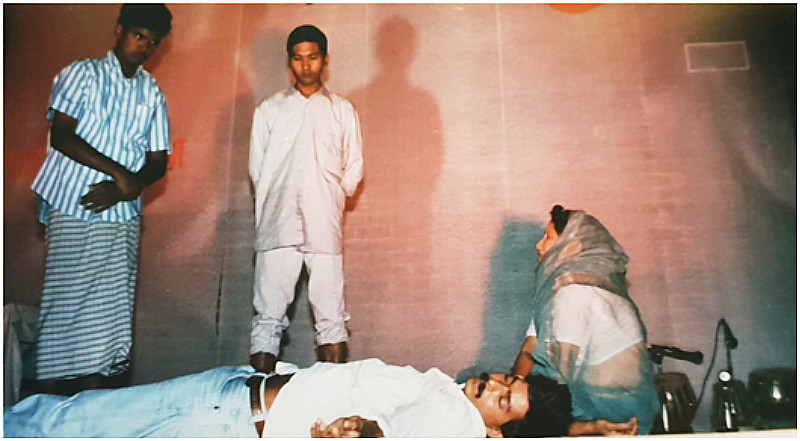 A scene from one of the dramatic performances




A rare honour and responsibility

The night of April 3, 1992 is still fresh in my mind. Around 1000pm, Mr Abdul Hannan called to inform me that the Bangladesh Islamic Society had nominated me to lead the Eid ul Fitr prayer the following day at the Zetland Mosque! While this was a great honour, it was also a serious responsibility. I suggested some alternative names, but the decision did not change. Although I was very nervous, Allah helped me lead the prayer and deliver the 'Khutbah' (sermon) in Bangla. The Sydneysider Bangladeshis listened to a Bangla Khutbah for the first time and highly appreciated it.


Our daughter's wedding

On August 17, 1992, my daughter Sonia got engaged to Mr Shamsur Rahman, the youngest brother of Mr Abdul Hannan and a nephew of Mr Abdul Momen Bhuyian. The event took place at Bengal Gardens restaurant, St. Leonards; about 90 members attended the function. While the formal wedding took place in Bangladesh in June 1993, a post-wedding reception was held in Mascot Coronation Hall a month later. That was one of the earlier marriages between a Bengali boy and girl; almost 400 people attended the function. There were no proper wedding venues or caterers of Halal food in Sydney in those days. My friends in the community managed the event as a community project and cooperated wholeheartedly. Late Dr Mukhlesur Rahman offered his backyard for cooking the food while Gama's nephew, Meraj, was the chef.


Time to say good bye

As data collection for my PhD research was completed by early 1993, I became busy analysing the data and writing the thesis. I did not have much time to pursue my cultural activities. I was on leave from my employer, the National University of Singapore, and was required to return there. In late March 1994, I submitted my thesis and defended it successfully. My close friends organised a farewell party for me, and the first chapter of my life in Australia ended. With many fond memories and a heavy heart, I left Sydney in late April 1994.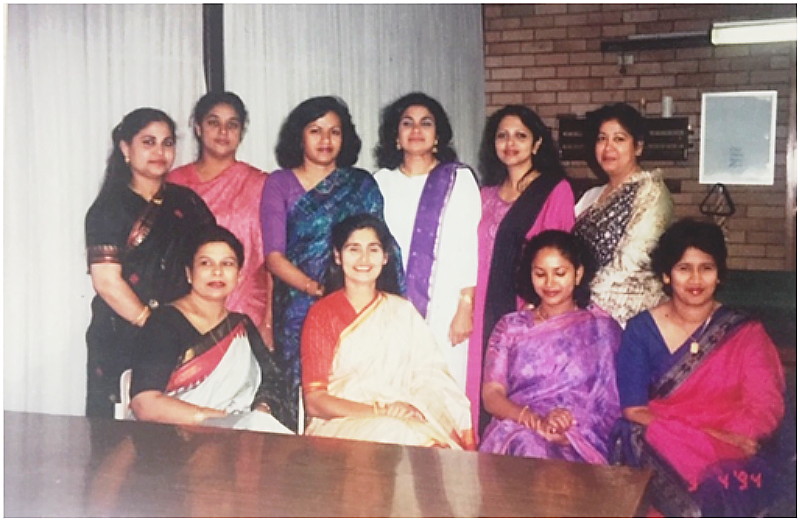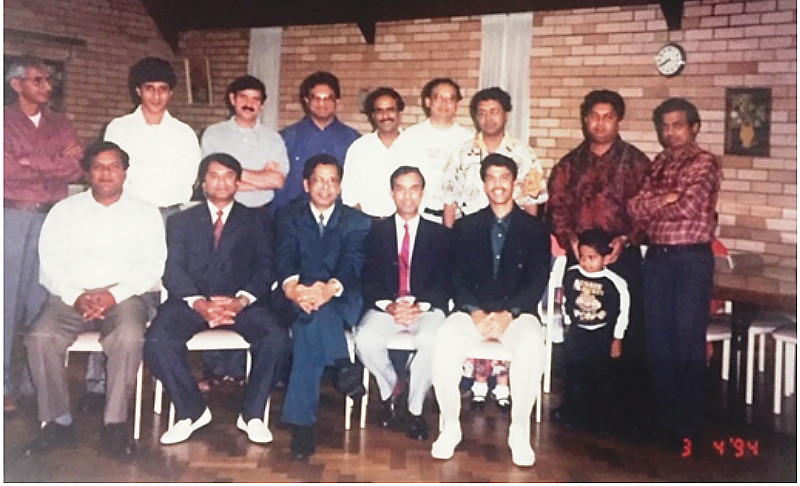 Some of the Ladies and Gents of the Bangladeshi Community
in the 1990s attending my farewell party




The Story continues

Almost seven years later, on July 15, 2001, I returned to Sydney to join UNSW as an academic and live here permanently. That was the beginning of my story's second chapter, which is still progressing. If the changes in the community in 2001 greeted me with pleasant surprise, changes since 2001 made me awestruck. The Bangladeshi population in Sydney has increased manifold, but the pioneers are gradually fading away. The city is abuzz with diverse activities and events participated by new talents. But for me, life goes on, and the story continues ...



Dr. Mohammed Abdur Razzaque, Sydney, Australia