Our Story (1)



The Early Settlers
Fakhruddin A. Chowdhury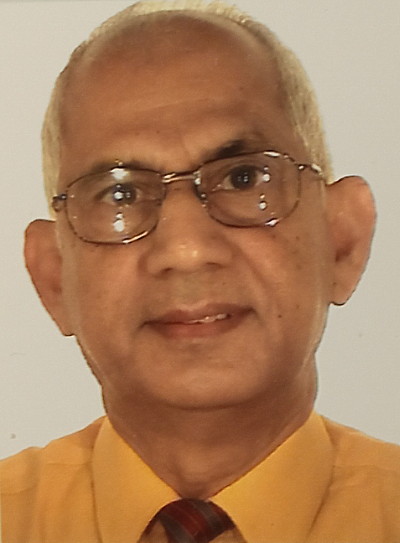 Fakhruddin A. Chowdhury

My move to Australia

I came to Sydney in October, 1971. My application for migration to Australia was approved a year earlier in 1970. I believe, I was one of first few to have received such an approval at that time from the Australian High Commission in Dhaka. On completion of my studies in Applied Chemistry from the Dhaka University, I worked for the then Pakistan Council of Scientific and Industrial Research (PCSIR, commonly known as science laboratory) as a Research Chemist. Like most other university-educated young people, I also aspired to go overseas for higher education and training for career advancements. I made attempts to go to USA, UK or Canada. Unfortunately, none of that materialized. Australia was never a destination under any contentions. I suppose the main reason being its location in the far corner of the globe. Also, being a self-proclaimed white western nation that barred acceptance of non-whites to Australia thru its infamous White Australia policy. The White Australia policy was aimed to forbid people of non-European ethnic origin, especially Asians and Pacific Islanders, from immigrating to Australia. The policy was introduced in 1901. Subsequent governments of Australia progressively dismantled such policies between 1949 and 1973. With the easing of restrictions, I made the attempt to migrate to Australia.



Early Bangladeshi migrants

Late Mazedul Karim Chowdhury is the first known Bangladeshi to have arrived in Australia in 1962. He is popularly known as Alamgir Chowdhury and nicknamed "Captain Cook". He came to Australia from Barisal having married a visiting Australian lady who was there as an English teacher. His second wife, a Bangladeshi lady and a son now live in Sydney. I believe there was another gentleman called Enamul Haque Chowdhury, who also arrived around the same time. Lastly, he was known to have been living in Canberra with his Australian born wife and family.

Mr Nazrul Islam, presently living in western Sydney with his wife came in 1970 and so did Nazmul Karim Chowdhury popularly known as Azam Chowdhury. He is now enjoying a well-earned retirement somewhere in the Central coast. Mr and Mrs Shahidur Rahman came sometime during the middle of 1971. Mr. Rahman is survived by his wife and two daughters, presently living in Sydney's north-west. Three medical Doctors also arrived during that period; Dr MR Chowdhury, Dr Shahnawaz and Dr Feroz. All three of them worked at the Blacktown Hospital. Dr Fazlul Huq, now retired as an Associate Professor of Sydney University arrived from the UK and so did Mr Ali Hossain and his family. Dr. Huq now lives in north-west Sydney with his wife and Mr. Hossain had settled in Canberra. Three other families; the Frasers, Starlings and the Wilsons arrived by 1972. Then followed Henry Gilbert, a well-known personality of the cultural circle. Late Mr. Qamrul Huda initially came as a student for higher studies, lived with his Australian born wife Cynthia in north Sydney. His widowed Bangladeshi second wife and a daughter and a son live in Sydney now. Dr Taufique also arrived in mid 60's for higher studies and now lives with his Australian born wife in north-west Sydney. Mr. Shamsuzzaman (Bulu) came to Australia in 1973 after marrying his Australian classmate while studying in England. He was a ladies' fashion specialist and had number of boutique outlets in the CBD with a factory in Surrey Hills. He lived with his family in north Sydney and passed away in 1985. A brother and a sister of his live in Sydney. Mr. Faruk Chowdhury arrived in 1974. He now lives in north-west Sydney.



Bangladesh Associations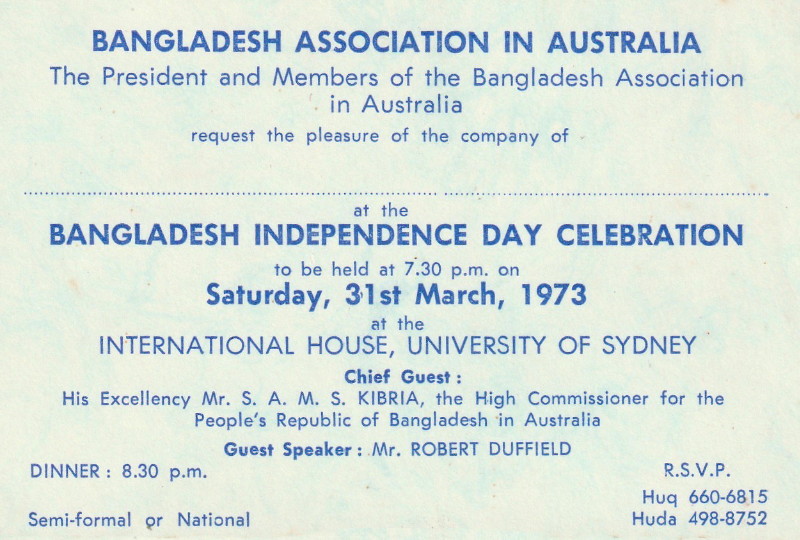 Invitaion card to an Association event.


The first ever organisation of the then Bangladeshis in Australia, the "Bangladeshi Peoples Association" was formed during the liberation war. It provided a platform to promote the cause of our independence war and to establish an identity of the small group of Bangladeshis representing the nation. This association had no designated office bearers and all willing individuals of the Bangladeshi community were its members. A full-fledged community organisation of Bangladeshis was formed after the liberation with Mr. Nazrul Islam as its President and I had the honour of being its General Secretary.
There were only few of us, permanent residents, who could come out openly to promote the cause of the liberation war of Bangladesh. We arranged lecture tours to generate support and sympathy towards the liberation movement among the Australians in general and the Australian Government in particular. For showcasing Bangladesh, we organised cultural events with whatever meagre human and material resources we could have mastered.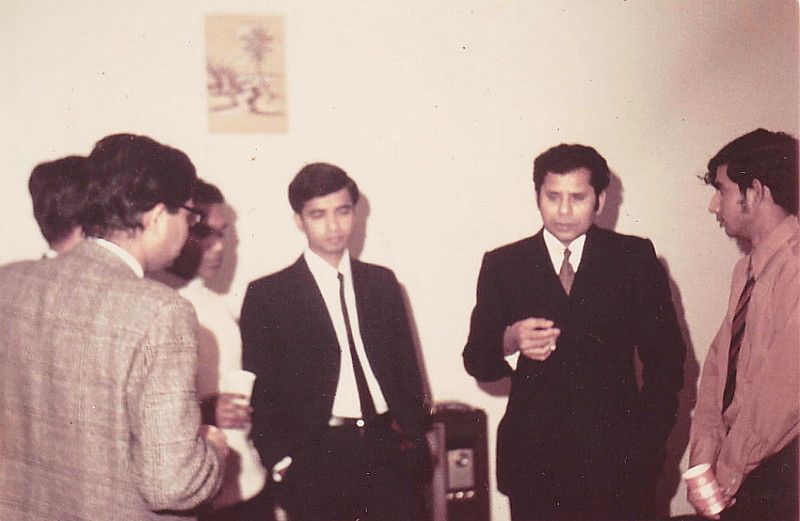 From left : Person facing away from camera Dr. Nurul Haque. Young man facing camera Mr. Azam, High Commisioner Hossain Ali, far right mr. Fakruddin Chowdhury.



Mr. Azam Chowdhury was a valuable resource for the community in these regards. Men had to go on to the stage to play the roles of women to make up for the shortage in numbers. We were well received by the Australian audience as well because of the spirit and the intentions. Bangladesh started making its mark on this distant shore of the world. We became ambitious and organised Rabindra-Nazrul Joyonti far back in 1972. To name a few, Noreen Fraser, Lorraine Sterling and Mrs Mokhlesur Rahman among others deserved to be credited for the success of those events.

As the number of Bangladeshi migrants continued to increase from the mid70's and into the 80s, individuals and families started spreading across the suburbs of Sydney. By the second half of 80's Bangladesh Association of Australia split up into two in line with the demography, Eastern and Western parts of Sydney. Bangladesh Association of Australia remained in the East and the split saw the evolution of Bangladesh Association of NSW in the West. The Associations strived to organise functions and reunions for Bangladeshis of all faiths.



Language, culture & religion

As the community grew larger, so did the number of growing children of the Bangladeshis. The Bangladesh Cultural School was established at the Eastlakes Public school by a few of us in late 80's. In about the same time the Bangladesh Pathshala (পাঠশালা)was setup at Parramatta under the stewardship of Dr Fazlul Huq. Curriculums were designed and developed to cater for Bangla language, religious and cultural aspects. The school in East had music and singing lessons too. Members of the Hindu community were offered religious classes of their faith. They weren't interested. I suppose it was because they were very few in numbers. Christians were even less interested because they had the access to the churches at ease.

The birth of Bangla Prosher Committee evolved from a meeting in Solicitor David Bitel's office in early 90's with Rothin Mukherjee, Professors Mukherjee and Debesh Bhattacharya, myself and Prof. Fazlur Rahman and few others. At a later stage Bimal Maity was at the helm of the affairs. Mr. Maity earlier lived in Melbourne where he played a leading role to put Bangla in the Victorian school Curriculum. I also worked with him as his vice-president for a while. I am very happy to see that the Bangla Prosher Committee is still continuing its good work to put Bangla into NSW school Curriculum. I commend the ongoing efforts of such other associations like Bangla Academy, Ekushe Academy and Bangla Prosher Committee, Ekushe Boi Mela in their efforts to keep the language and culture alive in this adopted home land of ours.



There were others before us

I think Bangladeshis set foot in this continent long before 1870, as stipulated by some researchers on the subject. Some hypothesis had been postulated that, long before the Cameleers came to Australia, while Captain Cook was sailing from England in 1770, some of his English convict crews had died or some became too ill to sail. He desperately needed to replenish his sailing hands. While sailing through the Bay of Bengal, after the defeat of Nawab Siraj-ud-Doula, he is said to have picked up the defeated and jailed soldiers of Bengal to man his ship. Anyhow, these theories as yet remain uncorroborated. Some hints had been found in that direction but requires further investigative research.

In 1974, when I went for my first holiday in Bangladesh from Australia, one of my village elders came and asked me in our Sylhet colloquialism "I believe you have gone to Ostalia, baba." I said, yes uncle, I have gone there to live. Then he said how is "habur bidge". He meant Harbour Bridge that he saw on trips to Australia as a deck hand. These crew of merchant ships worked in the lowest of lower decks and never saw the light of the day until the ships docked in a port. Some took the opportunity to jump their ships from time to time. There were a few of those from our village who never returned from the voyages. No one knows what may have happened to them. If any of them jumped the ship at any port in Australia, chances are that he/they managed to stay back by assimilating into the society through marriage, mainly in the bush with the indigenous population. Incidentally, Mr. Nazrul Islam met one such person in Sydney who jumped from the ship long ago and lived with his Australian family.



Lastly but not the least

I have spent best part of my life in this country and I am thankful about it. I have been fortunate enough to make acquaintances and friends over this long period, to all of whom I express my gratitude for all the help that I had been receiving from them. I have made my best efforts to engage with the community for its betterment and for mine too. In the process it is more than likely that I may have overstepped my limits at times and may have offended or hurt some. I am sure I may have missed mentioning some names here for their contribution to the community. I attribute this to my own limitation to dig further to remember their good deeds. This is completely unintentional and not intended to demean anyone. To them, I seek their understanding and forgiveness. Let us all wish for a prosperous and harmonious future for our oncoming generations for a new and rapid growth of Austro-Bangla generation in this land.

Last but not the least, I commend the efforts of Mr. Mostafa Abdullah to collect and publish the stories and histories of our settlement in Australia. I wish him all the success.


Fakhruddin Ahmed Chowdhury, Sydney, Australia