Obituary of Dr. Mokhlesur Rahman
Nazrul Islam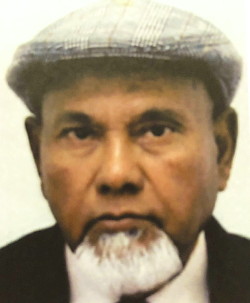 Dr. Mokhlesur Rahman

Dr. F.M Mokhlesur Rahman, a prominent Bangladeshi Australian who had lived in Sydney since 1969 had passed away on Sunday, 18 August 2019 at 1:40 PM in Royal Alfred Hospital, Sydney in the presence of his children, Subhra and Pushkin. I and my wife Yasmeen were also present. He passed away very peacefully holding Pushkin's hand.

He had been suffering from cancer for quite a while. It had been detected some time back and after the operation it was contained and he maintained a normal life. But the cancer returned and he succumbed ultimately to the vicious disease. But nonetheless, he had always maintained a positive attitude in order to have a dignified life.

His children Subhra and Pushkin have respected his wishes to live independently till the end. His youngest sister, Parul, looked after him as well.

Mokhlesur Rahman was my long standing personal and family friend. He was doing his PhD when I came to Australia as the first East Pakistani migrant in 1970. Only four other Bengali permanent residents were in Australia then; three of them came as students, married Australian women and stayed back as spouses. The other person was a sailor. He fell sick, was admitted to RPA Hospital in Sydney and disappeared without a trace for about 15 years. He didn't have any contact with his family back home; they didn't even know if he was alive! He contacted me through Mokhlesur Rahman in 1971 during Bangladesh's War of Independence and volunteered to help; an unusual brave gesture for the love of his beloved birthplace.

Only 16 students were in Sydney then; another 10 or so students were studying in different universities in Melbourne, Canberra, Brisbane, Adelaide & Perth. These were the total East Pakistani Bengalis in Australia in those days.

When I tried to get support from Australian people and the Australian Government for Bangladesh's Independence, Mokhlesur always supported me without hesitation. When I had to establish 'Bangladesh Association of Australia' in 1971 in order to contact academics, news media, political parties, church groups & Members of Parliament, not as an individual, but under the banner of an organization, he was one of the six inaugural Members of the Bangladesh Association of Australia. None of the students could contact me openly and go with me to different meetings organized by different groups of our Australian friends to let people of Australia know what sort of exploitation and atrocities were being inflicted by the Pakistani military dictatorship upon the peace loving democratic-minded people of East Pakistani Bengalis during the 24 years of undivided Pakistan. We wanted Australians in general and Australian Government in particular to support our independence.

Members of the Pakistan Student Association were taking note of students from East Pakistan who intended to support Bangladesh Independence movement in order to report to the Pakistan High Commission in Canberra, so that they could order for the return of those students to home. Mokhlesur Rahman along with others worked with me in the background.

Later on, he was a community leader elected as the President of Bangladesh Association of Australia on several occasions. His services in support of social and cultural activities of the community continued.

Mokhlesur Rahman was always an unassuming, sincere, friendly gentleman, as everyone would acknowledge whoever met him in person.

Those Bangladeshis who came in the nineteen-seventies and eighties would be well-acquainted with his helpful attitude to the new-comers. He would picking them up from Sydney Airport and assist them settling in an unknown environment in a foreign country. Most of the new arrivals became his friends and continued to have lasting ongoing contact. His house had always been a place of gathering for Bangladeshis living in the eastern suburbs due to his welcoming hospitality.

He was very happy to see that so many of his friends and their children visited him during last days of his life. His friends have not forgotten him for what he did for them.

He was very good with children and his affection for his own children as well as his friends' children were always in evidence. My children always remember their childhood and Rahman chacha very fondly because they were around him so often. I'm sure that many children of his friends would feel similarly.

The community has lost a genuine friend and a role model. I have lost a very dear personal friend. I always fondly remember his memory with love and gratitude.

His children, their spouses and grandchildren, sister and other family members have lost someone so dear and irreplaceable. We all pray for him. May his soul rest in peace. Allah is compassionate and merciful.



Nazrul Islam
51 Timesweep Drive, St. Clair, Sydney, Australia.