A Green Apple goes to the Big Apple
Mostafa Abdullah
1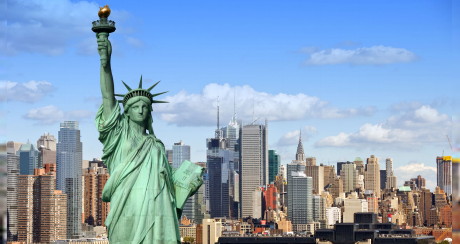 On an August afternoon in 1975 a green apple like me who rarely ventured outside of Dhaka embarked on a plane bound for New York City, the Big Apple. It was on a Thai Airlines flight bound for Delhi, probably the first one out of Dhaka after the assassination of Sheikh Mujibur Rahman. There were only few of us who joined other passengers on board going to Delhi from Bangkok via the then Dacca. Today's Dhaka used to be spelled as Dacca, the spelling given by the colonial English.

I landed at Delhi for an overnight connection on a Lufthansa flight for New York. Next morning as I was heading to board the New York bound flight from Delhi airport; I was stopped by uniformed personnel that took me into an adjacent room. I was queried for sometime about Sheikh Mujib's assassination. I suppose when they realized that I was not a person of interest, they let me go minutes before the flight departed.



2


The flight landed at New York on a Sunday afternoon and my supposed receiving party wasn't anywhere around. However, I had the taxi voucher and instructions as to how to get to the designated hotel. After clearing the Immigration and customs I needed quit a long time to figure out how to get out through a large glass door that opened and closed, it seemed, at its own whim. After observing the passengers going in and out through the door for some time, I cleverly followed someone to the door, and amazingly, the door opened and I slipped out cleverly, I thought. I checked into the hotel room in the evening; tired, hungry and terrified. Bolted the door from inside and spent the night half asleep in empty stomach.

Outgoing passengers from Bangladesh were allowed to carry only $20 worth of foreign currency. In addition I hid another $20 in my underwear. I needed to eat some breakfast but I was afraid to spend any of that money. Finally the pangs of hunger overtook the economic consideration and I walked downstairs to eat something. I chose the cheapest breakfast and after savoring it I returned to my room to find out that the door wouldn't open from outside. I desperately tried to open the door by turning, twisting and banging the door knob in vain.

A few minutes through the efforts to open the door, a barrel shaped huge black guy in equally dark uniform emerged from the lift and shouted at me in burly voice to get away from the door. I tried in vain to tell him that I was merely trying to re-enter my own room. He demanded to see the key. I said I did not have it and I wasn't aware that I needed one. He wasn't convinced and led me to the manager's office in the apprehension that I was probably trying to break in into the room for stealing. The manager demanded to see my Id which I couldn't produce as I had all my papers inside the room. However, to make the long story short, I was finally able to return to the room with the help of a duplicate key from the manager's office.



3


My first job at New York was to visit UN office that sponsored my scholarship. I needed to collect required papers and first month's stipend before heading for Washington DC the following morning. Washington DC is where I would be spending the next eighteen months. My instructions said that the UN office is located on the same street as the hotel, about a mile away on the left.

I decided to walk the mile; first because I did not wish to spend any more money and second I could not be sure if the New York cabbie would take me to the right place. I was repeatedly warned of the darker sides of the big apple by my friends and well wishers. As I walked towards the UN office I looked around to find some landmark that I could remember. I wanted to make sure that on my way back to the hotel if I spotted the landmark, I would know for sure that I am not lost. About half a mile down the road I noticed a big red sign in a store front 'Peoples Drug Store'. That seemed like a very good landmark to remember and unlikely to be missed. About half a mile further down the road I found the UN office and took the lift upstairs.

I was led to a young lady's desk who introduced herself to be my case officer. She gave me a long introductory briefing and got down to doing the required paper works. It got to the lunch time and the young lady said that she had already taken the rest of the day off and wasn't going to return after lunch. She advised that I needed to see the Supervisor when she would be back from her lunch. After lunch I walked up to the Supervisor's desk and told her that the other young lady wasn't going to work with me anymore as she wouldn't return after lunch. The middle aged hefty looking Caucasian lady stared at me from behind her round glasses with squinting eyes and demanded to know; 'why, what did you do to her'? I just did not know what to say and started fumbling and most probably replied 'I haven't done anything to her'. She changed her stance and seemed as if she was having fun and said 'relax lover boy, sit down and let me fix you', and got down to finishing the rest of the paper works for me. That's when I realized that it was my first encounter with the American kind of wit, of which lot more were to come.

After finishing at the office, I headed back for my hotel, on foot again. I was very watchful to find the 'Peoples Drug Store' to make sure that I was heading in the right direction. A short way down the road I was very pleased to find my landmark; the Peoples Drug Store. I knew I was on the right track. Happily I kept on walking and walking until it seemed that I may have walked a bit longer than I should have, and yet the hotel wasn't on sight anywhere. May be it is a bit further up and I kept on walking. Lo and behold, soon I came across another Peoples Drug Store! A passerby told me that I walked exactly in the opposite direction and as I found out later that there were Peoples Drug Stores in every other corners. (CVS acquired Peoples Drug Stores in 1990).



4


The following morning I would be heading for Washington DC, a fine place to be, to spend the next two years. But before I talk about Washington DC, let me say a bit more about my next visit to New York City a year or so later.

I have worked as Consultant for the most part of my later life. However, the first time that I came to know what a Consultant is, was about 35 years back. Returning from a daylong conference, as we walked through the infamous 42nd street in the New York City eyeing through the adult storefronts and booths, a voluptuous middle aged lady invited us in a husky voice to step inside the store and meet with any of the Consultants to seek any advice or assistance needed. Peeping inside we noticed a group of scantily dressed women with over-flowing makeup and inviting smiles. They were off course the members of the oldest profession on earth, and that they were also being addressed as 'Consultants'. I suppose one need not have a genius of an imagination to guess the kind of consulting services that were on offer.

Almost 20 years later, the Chairman of the Bangladesh Power Development Board called us, a group of ADB Consultants; 'prostitutes of the western world', after a heated disagreement in a meeting in his office. I wondered how on earth the Chairman knew that the consultants are also called by the other names too!