Press Release
BEN Seminar and Community Forum on
Dengue in Bangladesh: Causes and Remedies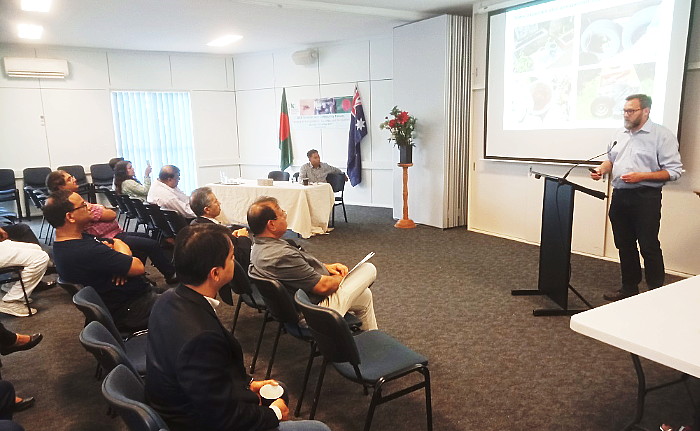 Bangladesh Environment Network (BEN) Australia Chapter held a technical seminar and a public forum on Dengue in Bangladesh – its causes and remedies. It was held on the 19th of October 2019 at the Toongabbie Anglican Church Hall in Toongabbie, Sydney, Australia.

The very first session began with Acknowledgement to the Traditional Owners of the Country and the martyrs of the freedom and language movements of Bangladesh. This was followed by the national anthems of Australia and Bangladesh. This session was Chaired by Dr Mamta Chowdhury - a BEN member and a Senior Lecturer in Economics at the Western Sydney University. Two MCs – Ms Naziza Fatemi, an environmental graduate/scientist and Ms Shuravi Paul, a health scientist in Sydney – both always kept the audience connected. In this session a welcome presentation was given by Dr Mamta Chowdhury on highlights of the activities of BEN Australia. Mr Khandker Masudul Alam, Consul General, Consulate General of Bangladesh in Sydney provided an overview presentation on the status and the Government's action in response to Dengue outbreak in this year. He was accompanied by the Consul Md Kamruzzaman.

The second session contained technical presentations on Epidemiology and Public Health. It was Chaired by Sydney's renowned Neurologist Dr Sharf-ud-dowla. Dr Cameron Webb from the Department of Medical Entomology, Westmead Hospital and University of Sydney; Dr Krishna Hort, Senior Consultant, Health Systems, Nossal Institute for Global Health, University of Melbourne; and Dr Kishore Paul, ICDDRB – Bangladesh, PhD scholar at the Kirby Institute, UNSW have spoken on epidemiology and public health aspects of Dengue in Bangladesh and East- & South-East Asia.

The third session was also a technical session where Dr Cameron Webb and BEN Organiser in Sydney Dr Swapan Paul gave presentations on remedial measures, including clinical, environmental and social issues associated with the outbreak as well as remedies. This session was Chaired by Dr Debashish Mazumder, a renowned scientist in Australia, an Australian Eureka Prize Winner for Scientific Contributions in 2019 and a BEN Member. At the beginning of this session Master Ishan Tariq, a Year-8 student in Sydney, who happened to be in Dhaka in August this year, had been infested with Dengue - narrated his ordeal of survival. His bravery was commendable!

The Final session involved a community forum where scientists, practitioners and the community in general have participated. This session was Chaired by Dr Ratan Lal Kundu, a medical scientist in Sydney and WHO Regional Coordinator for Contagious Diseases. In this session discussions were held and a set of recommendations were drafted. These recommendations will be reviewed and forwarded to the High Commission of Bangladesh for their considerations and necessary actions.

The recommendations generally emphasise on the following:



Not to lose the lessons learnt from the recent Dengue outbreak; rather cash in on consolidating tools, techniques and technologies to face outbreaks of such nature in the future;


Remain agile and open to new science and inventions in vaccine development, biological control and environmentally friendly means of treatments and remedies;


Pay emphasis on prevention of outbreak of disease of this nature by paying attention to environmental management measures rather than on curing once the outbreak goes out of hand;


Organise rapid and quick actions and undertake scientific modelling of disease spread and restriction patterns;


Avoid using toxic chemicals, fogs and pesticides; instead focus on habitat management and human practices around their own households and surroundings;


Boost community education and awareness in better waste management, water drainage, hygiene and sanitation so that each citizen in the cities take responsibility for their own actions in waste recycling and removal;


Pay proper emphasis on the root of the problem and not opportunistically blame waterbodies and wetlands for the problem, as Dhaka and other cities in Bangladesh are already losing wetlands that are otherwise essential for the city ecology, flood mitigation, water purification and biodiversity;


Since the entire nation is now aware of and alert in Dengue – make use of this public attention and boost education and awareness program, particularly in sustainable and effective management of household wastes.



The day's program ended by giving vote of thanks by Dr Swapan Paul, as the main organiser of the Seminar and Public Forum, to the speakers, MCs, participants and those who helped in promoting the event.




Program Outline
12.30pm

Lunch, tea/coffee, meet and greet
Session I: Introduction
Chair: Dr Mamta Chowdhury, School of Economics, Western Sydney University



1.00pm

Acknowledgement of the Country



1.02pm

National Anthem of Australia & Bangladesh



1.05pm

Welcome address by BEN Australia



1.20pm

Welcome speech and short presentation by the Consul General of Bangladesh in Sydney
Session II: Technical seminar 1: Epidemiology and Public Health
Chair: Dr Sharif-ud-dowla, Neurologist, Sydney



1.30pm

What causes Dengue?
– Dr Cameron Webb, Department of Medical Entomology, Westmead Hospital and University of Sydney

2.00pm
Dengue in South and South-East Asia - what can we learn from the experience of other countries?
– Dr Krishna Hort, Senior Consultant, Health Systems, Nossal Institute for Global Health, University of Melbourne



2.30pm

Public perception and attitude to mosquito-borne diseases in Bangladesh
– Dr Kishore Paul, ICDDRB – Bangladesh, PhD scholar at the Kirby Institute, UNSW



3.00pm

Discussion



3.15pm

Afternoon Tea
Session III: Technical seminar 2: Remedies
Chair Dr Debashish Mazumder, Senior Scientist, ANSTO



3.30pm

A Dengue survivor's ordeal in Bangladesh (Master Ishan Tariq)




3.40pm

Habitat management evidence and possible solutions
– Dr Cameron Webb, Department of Medical Entomology, Westmead Hospital and University of Sydney



4.10pm

Are poor waste management and bad sanitation the root causes?
– Dr Swapan Paul, BEN Australia and Sydney Olympic Park Authority



4.40pm

Discussion

Session IV: Community Forum: Conclusions and Recommendations

Chair: Dr Ratan Lal Kundu, WHO Regional Coordinator for Contagious Diseases




4.45pm

Group discussions and combined public forum



5.30pm

Recommendations & Closing





Media Contacts: Dr Swapan Paul, swapanil@yahoo.com/0433019377