Australia-Bangladesh Trade Conference Ended

Press release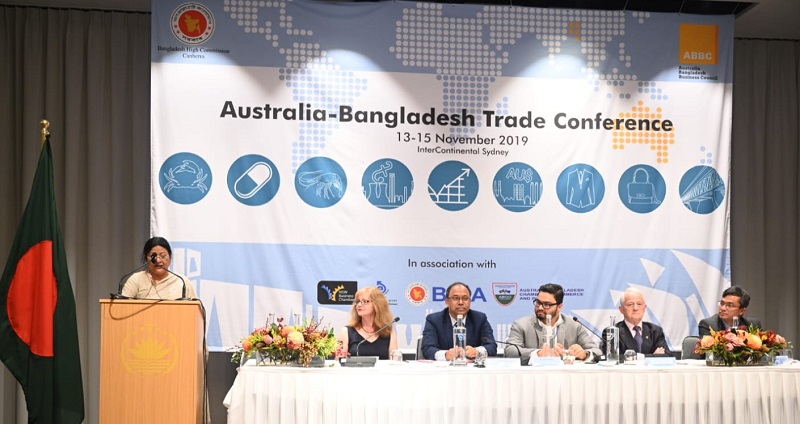 15 November 2019, Sydney: The Australia-Bangladesh Trade Conference ended today with a greater understanding on complementarities between Bangladesh and Australian economies, potentials for enhanced economic interactions and on a pathway for developing a trade framework to realize the potentials.The two day-long Conference, with the participation over 200 business stakeholders from both Australia and Bangladesh identified challenges and synergies to build broader economic partnership.

The second day of the Conference comprised three industry sessions.The Investment session highlighted the opportunities, incentives and policy support offered by Bangladesh. It stressed on prospects of investments in the economic zones in Bangladesh and challenges of investments in the capital market.

At the session on Trade Facilitation and Procedures,the discussants suggested to initiate bilateral collaboration and international bodies for enhancing compliance to standards. With Bangladesh's growing capacity in food industry and agriculture produces, they agreed on focusing more on quality control and sanitary and phytosanitary requirements. To this aspect Australia may extend technical assistance for Bangladesh's capacity building.

In education and skills development session, wide range of topics from vocational education to higher education has been discussed. New skill requirements for the future era , pathway to higher education,importance of vocational education for Bangladesh, challenges for Bangladesh students to get Australian visa , lack of Mutual Recognition Agreement (MRA) for recognizing degree given by Bangladesh education institutions in Australia, potential employment opportunities for Bangladesh skilled manpower in Australia , in particular mining, construction, aged care sectors and thorough training /re-training were the main discourse in the session. Recommendations were made based on the discussion to work jointly including Australian Government, Bangladesh Government and private sectors to map skill needs and impart training to meet Australian standards.

The two-day long Conference has been a unique event where policy makers and experts from Bangladesh and Australia collectively considered all issues on enhanced trade in goods and services as well as investment.