Bangladesh Australia agree
to form "Joint Working Group" on trade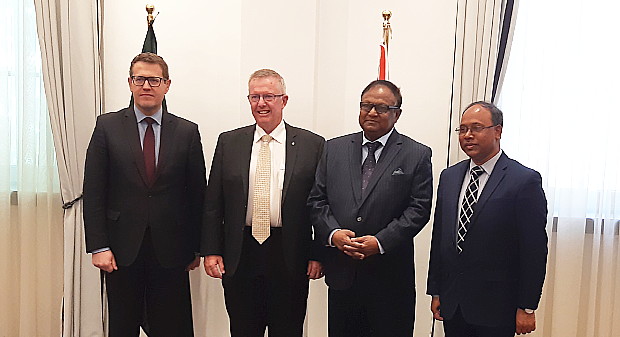 Press release The Commerce Minister of Bangladesh Tipu Munshi and the Assistant Minister for Trade and Investment of Australia Mark Coulton, who is also Minister for Regional Services, Decentralization and Local Government, have agreed to form a "Joint Working Group" to examine prospects and challenges of intensifying economic interactions at prioritized sectors. at a shortest possible time. The decision was taken during a bilateral meeting held between them in Sydney on 13 November 2019 at 11.30 am.

The Australian Minister has praised the recent development of Bangladesh in social and economic sectors and has indicated that Australia would increase its focus on Bangladesh which she deserves. He emphasized on having an institutional framework of cooperation and underscored need for regular interactions among policy makers and stakeholders.

The Bangladesh Minister indicated Bangladesh's readiness for a greater cooperation in the field of power and energy, agriculture, education, pharmaceuticals etc. Bangladesh Minister invited Australian investors to invest in Bangladesh in Special Economic Zones. He indicated that even a zone could be exclusively allocated for Australian investors if needed.

As decided, the "Joint Working Group" will be convened to discuss and identify the priority sectors for cooperation between the two countries. The Group will recommend next courses of action in the identified sectors including the possibility of an institutionalized trade framework.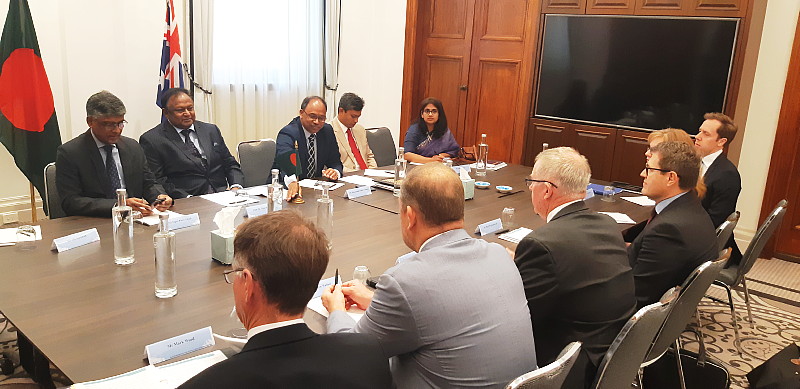 The Bangladesh Minister led a delegation which included among others the High Commission of Bangladesh to Australia Mohammad Sufiur Rahman, Additional Secretary of the Ministry of Commerce Tapan K Ghose while the Australian Minister was accompanied by Senior Officials from the Department of Foreign Affairs and Trade and relevant Department of Australia. The Commerce Minister is in Sydney to attend the Australia- Bangladesh Trade Conference from 13-15 November 2019.


14 November 2019