Requesting Articles for a Publication
Commemorating 50th Anniversary of Bangladesh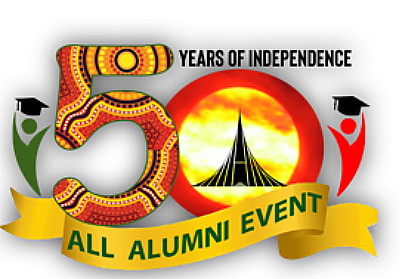 "50th Anniversary of Bangladesh - All Alumni Event" would be the first ever joint celebration of the 50th Anniversary of Bangladesh to be participated by the Alumni of all universities of Bangladesh residing in Australia. The event will take place on the 11th December, 2021 from 12pm to 8pm at Paul Keating Park. A colourful publication would also be released with write ups, drawings etc depicting our valiant freedom movement. You or any of your family members are welcome to send an entry for publication by the 10th Nov, following the guideline detailed below.

Theme: Liberation, Freedom, Missing Bangladesh, Bhasa Andolon

Language: Bangla or English

Format: Word Count: 500; Font: Arial/Solaimanlipi; Font Size: 11; Spacing: Single

Kids: Write-ups or Drawing. We will publish eight of the submitted works and the rest will be part of an exhibition during the event.

All writings need to be sent as Word Doc and drawings as JPEG to allalumnievent@gmail.com with below information:
Your name, university name - which you are alumni of, a picture of yourself and contact no.

Thank you for your participation to foster cohesion and camaraderie among the former students of Universities of Bangladesh.